Transformer Containment Bags
Bigger and Stronger Safety Orange Transformer Containment Bags.
Safely Contain, Lift, Transport and Store all sizes of leaking transformers.
New and improved, bigger, stronger BOB® Pole and Pad-Mounted Transformer Bags are replacing our original, patented, white Pole and Pad-Mount transformer containment bags.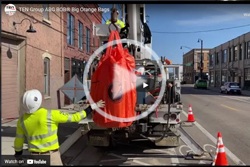 Refer attached flyer for corresponding Part No's. from White or PIG Bags to Orange (BOB) Bags.
Features
Helps to reduce preventable spills that release unwanted oils into the environment
Easy to store on truck solution for safe transport and storage of faulty transformers
Reduce costs of transporting large steel containers, contract crews pumping and draining transformers, as well as the cost to clean up leaks
New full sling design makes BOB® incredibly STRONG and SAFE.
Lifting loops form one continuous sling with a bottom cross-webbing design for lift reinforcement.
BOB® is a SAFETY RATED SLING BAG
Tested to hold 6 times its rated capacity
BOB® containment bags are bigger to accommodate today's larger high efficiency transformers.
Oil-Filled Equipment return tag with zip tie supplied inside the heavy duty document pouch.
QR code on every bag to scan for a "How To Use BOB®" Video. Learn how to safely use the bag in the field with a smart phone
BOB® Replacement Pole-Mounted Transformer Bag (Round)
| New Part No | Dimensions | Capacity |
| --- | --- | --- |
| BOB-26 | 0.66m (dia.) x 0.76m (h) | 567kg |
| BOB-32 | 0.81m (dia.) x 0.96m (h) | 630kg |
| BOB-42 | 1.07m (dia.) x 1.22m (h) | 907kg |
BOB® Replacement Pad-Mounted Transformer Bag (Rectangular)
| New Part No | Dimensions | Capacity |
| --- | --- | --- |
| BOB-48 | 1.22m (dia.) x 1.22m (w) x 0.91m (h) | 1361kg |
| BOB-60 | 1.52m (dia.) x 1.52m (w) x 0.91m (h) | 1814kg |